Struggle Like A (Wo)Man # 1
Performance
50'
Artist & Concept Sónia Carvalho, Curated by Jorge Reis; Project managment Daniela Ambrósio; Photography by
Marisa Bernardes
; Costumes by Guita Gonçalves; Production by
EMERGE
; Partners
Association Incluir+
and Town Hall of Torres Vedras.
Acknowledgment to all participants: Filipa Miranda, Inês Nunes, M. Pires de Oliveira, Graça Pereira, Maria Carmo Moreira, Maria Eduarda Sousa, Maria Inez Espírito Santo and Odete Mendes.
"Struggle Like A (Wo)Man # 1"
as a result of a ︎
workshop
aimed at the local community, marked a tour of the city by six participants and the artist, and was presented at the
Festival Novas Invasões
having been one of the selected projects under creation incentive program promoted by the Municipality of Torres Vedras, Portugal.

Fountains, laundries, seen as places of meeting with the community, so as public spaces — not only for water supply, but they also served and still serve the domestic chores, where women gathered to wash clothes, catch up and let go the voice in singing to the stray. They are also meditation and contemplation places, whose the water and its mirroring properties, give rise to confrontation with themselves as a way of studying the limits of the performing body and its inner anguish, questions and strangeness – or even terror – of its Self.


The performance develops from a dialogue between the source, the water element and the bodies: whose score is composed starting from the decontextualization of the gesture of the domestic handles, and from a formal game between the floor brushes and the genital organ — as well as the rubbing action and the erotic movement, in communion with the experience of the sacred manifested in daily rituals – framed by a traditional song named "Oliveirinha da Serra".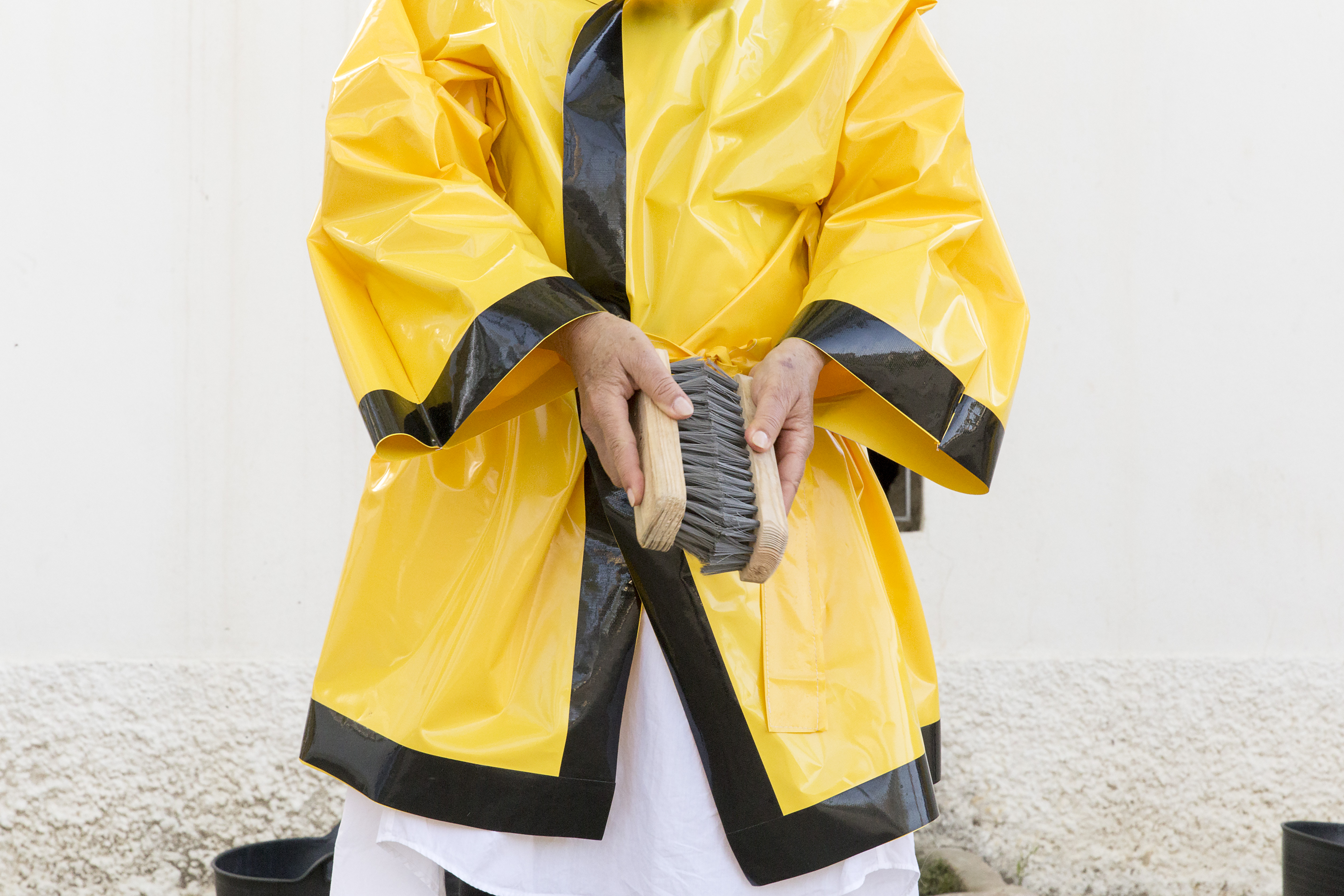 It is from these distant universes that the gestures developed from situations such as the cleaning and hygiene activities that a house requires, for the construction of a performative narrative; as a reflection on the condition of women as a place of strength on a multidimensional battlefield, in a patriarchal society.